All of our guides work as independent contractors.  If you are interested in a particular guide, please book your trip as soon as possible. Many of them are booked a year in advance. If you have fished with us in the past but can't remember who your guide was, let us know and we'll try to look it up.
If you don't have a particular guide in mind, please let us know what you are looking for in your fishing experience and we'll try to set you up with a compatible guide.
Rick Thomas
Outfitter/Guide #3200
Rick is an awesome Outfitter, Guide, and Father. Rick was born and raised in Hamilton Montana. He started fishing at an early age and loved fishing in the creeks of Skalkaho and Sleeping Child. He started tying flies at the age of 17, a few years later he started tying them professionally. He tied flies and helped John and Elna in their fly shop for a few years and moved his way up to guiding. After guiding for 4 years he decided to get his Outfitters license and become his own boss. Rick is laid back, easy going , loves to fish. Rick has a partner that always works with him. He is a Schipperke named Bodee.
bodeetrout@gmail.com
Joe Loney #21090
Independent Guide
Boomer
Independent Guide
Capt. David "Boomer" Bean: Dave grew up in the Florida Keys, received 100ton Captains license in 1982, Guided flats fish ie. Tarpon, Bonefish, Permit in the Keys, then became the head guide at the Southern Cross Club on little Cayman. After moving to Chicago & guiding in Wisconsin for Sm. Mouth Bass. Muski and Trout. Moved full time to Montana in 1999 where he now guides with   Fly Fishing Always.  Dave's  companion "Kona" the old lady of the river passed on we will all miss her. Dave has a new boat dog in training a lab named River.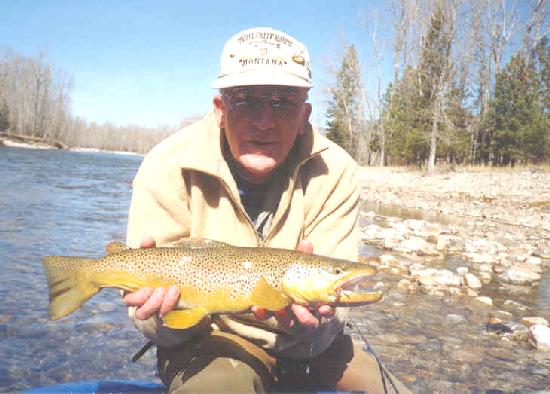 John Foust
08/07/1941 to 04/06/2020 "Miss me --- But let me go"
Emmett Burns
Independent Guide
He grew up at Lake Tahoe, skiing and fishing the Eastern and Northern Sierra's for Thirty five years. He moved to the Bitterroot Valley in Western Montana in 2004. Between work and play he can be found on the river nearly two hundred days a year. With sixteen years of guiding, and forty years as a "Trout Bum" let him share his experience with you!!